Top 10 Areas to live in Istanbul and Where to buy a villa in Istanbul? What type of property to buy in Istanbul?
Table of Contents
In this article, we will talk about the top 10 Neighbourhoods in Istanbul based on the standard of living scaled and measured by Authorities. Also, my personal experience in every district dealing in selling properties and getting feedback from clients who lived there.
While discussing the best districts of Istanbul, we will also mention what type of property to buy in that district. So you can have a whole picture if you are looking for the best areas to buy an apartment in Istanbul.
Since these are the best areas to live thus, they are ideal for investment too.
Following are the ten best areas :
1. MASLAK:
One of Istanbul's most prominent districts is located northeast of European Istanbul.
Maslak competes with the nearby Levent business district for new skyscraper projects. At present, the tallest completed skyscraper in Maslak overlooks the Sariyer Forest. Just five minutes from the famed Bosphorus Strait, which divides the city's European and Asian portions. Because it was only 10 kilometers from Taksim Square. Forty-six kilometers from the Asian side of Sabiha Gokcen Airport. Thirty-five kilometers from the brand-new Istanbul Airport, it was in an excellent geographic location.
The Maslak neighborhood is referred to as the "City of the Rich" because of the area's sophistication and elite classes of Turkish society, such as ministers, merchants, businesspeople, and artists, who choose to live and reside there. Maslak is an Upper-Class neighborhood. Therefore its real estate costs are amongst one the highest in Istanbul. As a result, the area has high rentals, monthly returns, and prices per its unique geographic location.
The type of property to buy here is any type that is either office or residential apartments or villas etc.
So, Maslak district is in the Top 10 Areas to live in Istanbul.
You can also browse our project in Maslak:
Superbly designed towers overlooking the Bosphorus in Maslak
Own Your Forest View Apartment in Maslak
2. BUYUKCEKMECE:
It is located in Istanbul's European side. In the charming district of Buyukcekmece, you can find quiet and independence from the hustle and bustle of Istanbul. It is unquestionably among the family-friendly areas. It has a view of the sea and the Bosphorus without the bridge.
Buyukcekmece has a feel of Florya and Tarabya. Low-rise recently constructed projects with wide roads and high-quality eateries nearby. Besides the area's sparse population. Newly launched projects are still within reach of most people's budgets. Generally speaking, sea projects are more expensive than other projects. Yet, compared to other sea view districts, Buyukcekmece district sea projects still sell for between 1500 and 2000 US dollars per square meter which is considerably less expensive.
The type of property you buy in Buyukcekmece is Villa or large size 3+1 or 4+1 residential apartments.
So, Buyukcekmece district is in the Top 10 Areas to live in Istanbul.
Browse our project in Buyukcekmece: Uniquely Designed 2022 Modern Villas with Sea View.
3. KARTAL: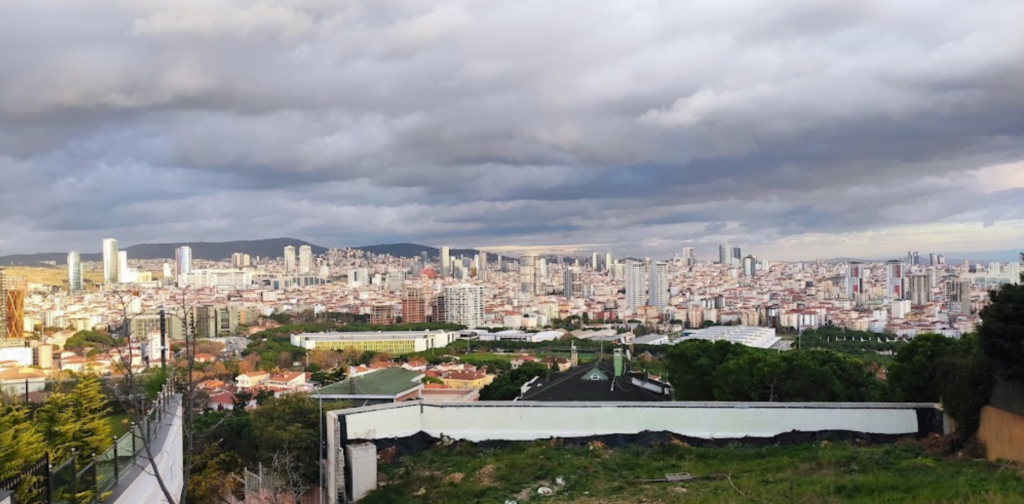 Kartal is located in Istanbul's Asian part. Kartal has a modern infrastructure built on the coast with broad lanes of road, expansive green spaces, a park, and children's play areas on both sides of the coastal road. It also features luxury tower complexes. Kartal real estate offers stunning views of the Marmara Sea and Princes Island. Kartal has a core business sector, upscale housing projects, concert halls, museums, and theatres, as well as recreational areas, including a marina and hotels for tourists.
Kartal or its surrounding area are like undiscovered gems with costs that are still reasonable for what they have to offer. There are metro stations in these areas and other forms of public transportation.
Most have stunning views of the Marmara sea and the Princes Islands. Furthermore, the major highway's four to five lanes of contemporary skyscrapers will give you the impression that you are in Dubai while still enjoying Istanbul's pleasant climate. Also, the district is within a short 15-minute drive from Istanbul's Sabiha Gokcen Airport.
The type of property that should be invested here is residential apartments from 1+1 to 4+1.
So, Kartal is in the Top 10 Areas to live in Istanbul.
You can browse this project: Panoramic View of the Sea and Islands Kartal.
4. BEYKOZ:
Nature is what makes it unique, and the villa project located in this area makes it even more special. This district is in the Asian part of Istanbul. Just a few minutes from the Fatih Sultan Mehmet Bosphorus Bridge, it is filled with dense forest and views of the beautiful Black Sea.
The area is recognized as one of Istanbul's most beautiful and serene locations because of the large amount of remaining nature. Distant from the chaos and congestion of the city. Numerous academic institutions, such as colleges, hospitals, and clinics, are located in the Beykoz area. The Beykoz district is quite wealthy in this area and is home to some of Istanbul's best and most advanced medical institutions.
The type of property ideal to invest in Beykoz is Villa.
So, Beykoz is in the Top 10 Areas to live in Istanbul.
Learn more about The Green Journey Begins With Beykoz.
5. KENNEDY CADDESI IN ZEYTINBURNU:
Zeytinburnu is a district in Istanbul's European side. On the shore of the Marmara Sea, just outside the ancient city's walls. Beyond the fortress of Yedikule, exactly on Kennedy avenue seaside road.
In Istanbul, when you arrive in the main center, all you see is traffic and attached houses. But then you try to find a place with the breezing wind without any traffic and an open sea view and at the same time just a few minutes away from the main center. So the first place that you may find is Zeytinburnu, which also directly connects you to the longest tunnel in Istanbul called Eurasia.
Zeytinburnu is one of the Top 10 Areas to live in Istanbul and the ideal neighborhood. Its cutting-edge skyscrapers are proper by the water, and brand-new infrastructure is all around. Magnificent green landscaping and deep blue water. While preserving the area's rich past makes it so remarkable and distinctive.
Wealthy individuals like to live in Zeytinburnu, especially on Kennedy Road, because of its quality and class. In addition, it is an area near the sea and tourist places. Blue Mosque in Sultan Ahmet is just 500 meters away from Kennedy Caddesi Zeytinburnu, therefore it is the best neighborhoods in istanbul for tourists.
The type of property to buy in Zeytinburnu is residential apartments.
Learn more about Zeytinburnu the Unique District.
6. FLORYA IN BAKIRKOY: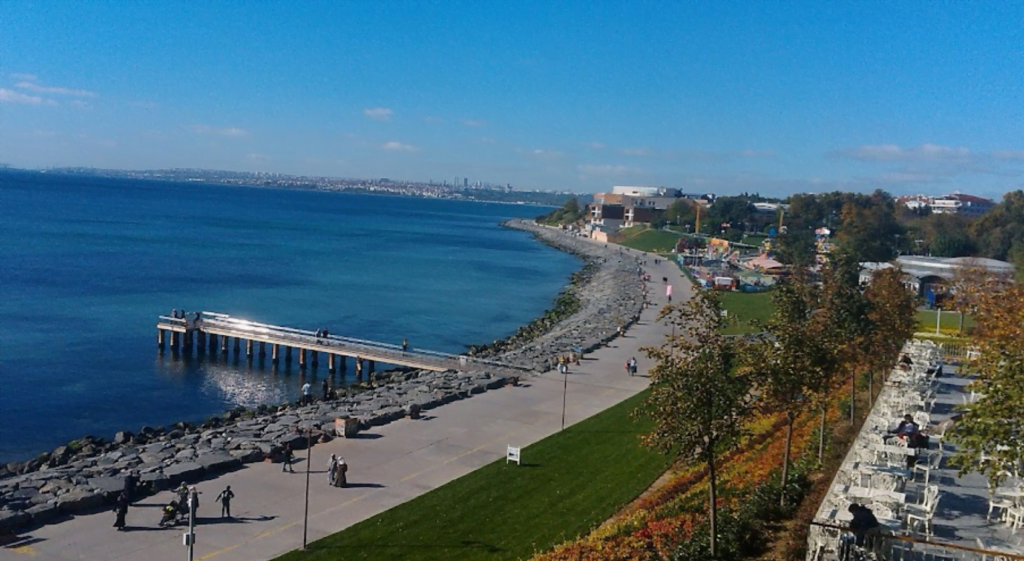 Florya is the ideal place for you. Suppose you want to enjoy the coast and live close to the city yet away from its commotion. Florya, on the Sea of Marmara, was once a popular vacation spot for Istanbul inhabitants. Sandy beaches are still present in this area. And numerous beachside cafes and eateries cater to the local elderly and younger people. Another outdoor recreation facility that provides fresh air to the neighborhood is Florya Atatürk Forest, which is adjacent to Florya Sports Complex.
Florya offers mesmerizing views of the sea from beautifully built low-rise luxurious complexes with thus low population. Florya also provides one of the richest neighborhoods in Istanbul, where almost all wealthy people reside. It is one of the most expensive residential area in istanbul. The vibe of Florya, with spacious roads and greenery but still the lovely seashores, attract you big time.
The type of property to buy in Florya is 2+1 and 3+1 apartments with oversized balconies and partial sea views or a private garden attached to them.
So Bakirkoy is one of the Top 10 Areas to live in Istanbul.
Check also our project In Dream Location Direct Sea Apartment to Buy in Istanbul.
7. BASAKSEHIR-BAHCESEHIR :
Recently, Başakşehir has increased in importance to Istanbul's real estate developers. There is a lot of potential in the area that stands out for its well-planned development process and new housing stock. Because significant developments are nearby.
The district keeps growing with projects like the city hospital, organized industrial zone, city square, and parks and offering a benefit for transit while making investments in the metro and highways. Bahçeşehir, Ispartakule, Kayaşehir, and Bahçekent makeup Başakşehir. It is on the verge of developing into a new urban center. With its branded housing complexes, transportation, and infrastructure
In the future, Basaksehir will be seen as the connection between Old and New Istanbul. Investors have a chance to seize the opportunity in this area. From every angle, purchasing property in Basaksehir will be advantageous. Whether it's for personal use, rental income, or high ROI
The type of property to invest in Basaksehir will be residential apartments and villas.
So, Basaksehir is in the Top 10 Areas to live in Istanbul.
Learn more about Spacious and Family Concept Living in Basaksehir.
8. ETILER in Besiktas:
Etiler in Besiktas is the exact center of Istanbul. But not the center where you may find congestion and small streets. But it is the pure living area for the elite of Istanbul, with famous restaurants of CZN Burak and Nusrat. Moreover, since it's the center, all the amenities are just around you. Therefore you get to live in the best place that is part of the center of Istanbul, yet everything is around. It is considered one of the best places to live in istanbul for expats.
Etiler is well-known for its upscale coffee shops, bars, restaurants, gyms, hair salons, clothing stores, and shopping centers, including Akmerkez, one of the most famous shopping malls in Istanbul. It has all the major fashion brands, cafes, and restaurants. Mayadrom is a smaller, more boutique shopping center. Nispetiye Street is considered the core center of Etiler, with cafes, restaurants, and designer shops.
Istanbul's elites prefer to hang around there. However, there are a lot of villas and private homes in the quarter as well, and Besiktas is one of the Top 10 Areas to live in Istanbul.
The type of property you can own here is apartments and private villas.
You can also browse Residence Apartments in the Center of Istanbul Besiktas.
9. BAGDAT CADDESI IN KADIKOY:
It is a 9-mile-long, glitzy main boulevard called Badat Avenue. The upscale shopping district parallels the Sea of Marmara's coast. The route passes through several areas,
providing singles and families with comfortable, quiet, and relatively wealthy living quarters. A high-end residential area is made up of the neighborhoods lining Badat Avenue. For families and pet owners, the quarters in Göztepe, Caddebostan, and Suadiye are ideal. There are wonderful parks nearby, and the shoreline is suitable for long walks, bicycle rides, picnics, and hanging out on the coast. Therefore it is the best place where to live in istanbul with family.
The type of property ideal to buy here is from 1+1 to 3+1 residential units.
10. USKUDAR:
The well-known district of Uskudar is immediately behind the first bridge and is considered the closest to Istanbul's center. This Istanbul's elite neighborhood is located on the Anatolian Side. The view of the Validebag woodland is breathtaking. The district with historical memories. It's a place that takes us back to a historical period and the most cherished memories of Istanbul's golden years, so it is the best place to live in istanbul for tourists.
It is a lovely Istanbul neighborhood associated with the word elite, where life goes on as if nothing has changed since those times. It is an open-air museum related to the grove, after which it is named and has become detached from history.
The project is a haven of peace with its low-rise housing, green texture, one-of-a-kind atmosphere, and residents who value the old neighborhood culture. It is the choice of those who want to fully experience nature, tranquillity, serenity, memories, dignity, and, most importantly, Istanbul. This is where Istanbul lovers can be found.
Neighborhoods that have the features mentioned above are Altunizade, Çengelköy, Kuzguncuk, Salacak, and Selimiye.
Any property in Uskudar, either a villa or an apartment, is ideal for investment.
So, Uskudar is in the Top 10 Areas to live in Istanbul.
If you are interested in the view of the Bosphorus, check our project Ultra Premium Posh Apartment Complex surrounded by Green near Bosphorus.
Frequently Asked Questions
Here are some of the most frequently asked questions by our clients:
What part of Istanbul is best to live in?
Istanbul is a city that straddles two continents: Europe and Asia. The European side of Istanbul, located in northwest Turkey, is home to several historical and cultural landmarks. The Asian side of Istanbul is located east of the European side, across the Bosphorus strait, and is noted for its more residential areas and coastal vistas.
What is the safest area to live in Istanbul?
Istanbul is a huge and bustling metropolis with several neighborhoods and districts. While it is a safe city in general.
What is the nicest area in Istanbul?
Istanbul is a huge city with many distinct neighborhoods, each with its own distinct character, facilities.
Where do the rich live in Istanbul?
Istanbul has a diversified population, and the rich may be found in a variety of districts. Some of Istanbul's most wealthy neighborhoods include: FLORYA, BEYKOZ, ETILER in Besiktas.
What is the best neighborhood in Istanbul to live in?
We have mentioned in the article the top 10 areas in Istanbul to live in based on the standard of living scaled and measured by Authorities. These areas include: MASLAK, BUYUKCEKMECE, KARTAL, BEYKOZ, KENNEDY CADDESI IN ZEYTINBURNU, FLORYA IN BAKIRKOY, BASAKSEHIR-BAHCESEHIR, ETILER in Besiktas, BAGDAT CADDESI IN KADIKOY, USKUDAR.
You can also read: Best And Affordable Villas For Buying In Istanbul.
Browse our Projects in Uskudar: Ultra Premium Posh Apartment Complex surrounded by Green near Bosphorus. and in Gaziosmanpasa: Cheap Apartments to Buy Near the Center of Istanbul.
Another project may interest you Exclusive Luxury Sea View Villa In Installments.