Is Istanbul investment-worthy?
Istanbul is Turkey's largest city and principal seaport, once known as Constantinople in ancient Byzantium. It served as the Byzantine and Ottoman Empires' respective capitals.
Table of Contents
Istanbul is blessed to possess the Bosphorus Strait, a natural strait and an essential waterway on a global scale. It is a portion of the continental divide separating Asia from Europe. The narrowest strait in the world is used for international navigation.
Istanbul has a long history of being one of the most fortified and challenging cities to conquer. From Roman times until the Ottoman Empire, Istanbul was situated on a peninsula at the confluence of the Black Sea, the Bosporus, and the Marmara Sea. One of the few intercontinental cities in the world is divided by the Bosporus.
The economy of Istanbul alone is more significant than that of about 130 other countries. This is because Istanbul serves as the development engine for the Turkish economy, which is expanding at rates never before seen. As a result, its GDP per capita increases, as mentioned below in the chart from year to year, which is more than double the global average.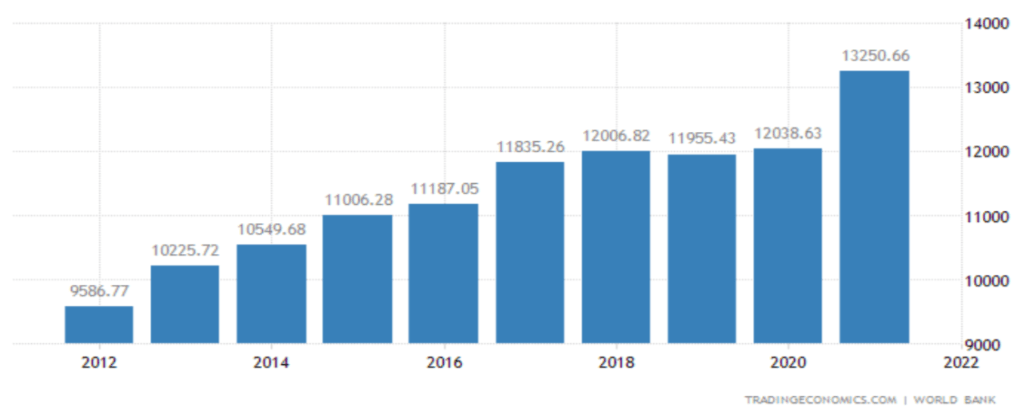 Istanbul is the city that directly connects Europe to Asia. The location of Istanbul is such an advantage that it has put the city as one of the most critical factors for Europe gas supply and food supply to the world coming in from Russia and Ukraine.
Istanbul offers sun, sea, stunning views and beautiful scenery, friendly people, value for money, low cost of living, and significant investment opportunities.
Istanbul is tops in modern infrastructure, having most skyscrapers in Europe around the beautiful green nature.
Is Istanbul investment-worthy?
1. Progressive:
As of November 2022, Istanbul is continuously introducing new projects, such as New Istanbul Airport, which is completed. Istanbul financial center is on its way to completion. Canal Istanbul is yet to start. Ataturk National Park is under construction, 3rd Istanbul Bosphorus bridge has been completed.
2. Many multinational corporations:
Giants, including Coca-Cola, Microsoft, and Sony Ericsson, have regional offices in Istanbul. Thanks to the city's advantageous location for managing markets in the region.
3. Safest city:
Employers and employees should consider a city's quality of living standards. Thanks to its diverse opportunities and historical significance, Istanbul has transformed into a bustling, infinite metropolis. Istanbul is one of the safest cities in the world, coming in at number 41. Six Turkish cities are in the top 42 worldwide, with Eskisehir ranking among the top ten cities.
4. Touristic Hub:
Istanbul is set to become a major tourist destination. And an investment is worth it when the whole world is here to witness the city. In 2021, Istanbul Airport handled more than 37 million passengers, making it the busiest airport in Europe.
The 13th busiest airport in the world. And the second busiest airport in the world in terms of international passenger traffic after handling more than 27 million travelers from other countries. International passengers: 26.505.670, Total passengers: 37.181.907. This also shows that both locals and foreigners choose to invest in Istanbul
5. Real Estate Development:
Istanbul has the highest growth in the average price per square meter. Istanbul has the most rapidly growing real estate market in the country.
6. Accessibility:
The Bosporus is the only route to the Mediterranean Sea and other seas for Bulgaria, Georgia, Romania, Russia (the western part), and Ukraine. Thus, sovereignty over the straits is a crucial issue for these nations and Istanbul, the city through which the Bosporus flows.
In addition, Istanbul has access to 1.5 billion people, a vast market with a 4-hour flight range.
7. Business-Friendly Cost of Living:
Istanbul is the crossroads of Europe and Asia, ranked 142nd in terms of the price of living so you can expect a low-cost urban lifestyle there.
Where to Invest in Istanbul?
Here, where to invest does not mean the district or specific neighborhood. We are targeting here type of investment, for example, where it should be either near the sea or in front of public transportation. Where to invest will depend upon purpose, which can categorize into two types.
1. Investment for only earning profit:
New Developing area: If you want to double your money quickly, seek a location that is new, developing, and has plans, particularly sea view projects or areas where the marina is anticipated to be built. The demand is always there for a sea view property compared to other areas, so families who tend to look for a place to live in, ideally a large 2+1 or 3+1, then the sea view option is most likely to boost investment return.
Airport District: Where ever the airport comes from, the city flourishes with people and businesses even in the deep jungle. Thus it's ideal to invest in an airport area where demand is automatically going there. Right now, Istanbul, the New airport, which is the Main Airport of Istanbul in the Arnavutkoy district, is a big opportunity as the prices in the district are still lower than in major districts in Istanbul.
Close to a metro or metro bus stop: Near Public transportation is an ideal investment if you are looking for both rental and investment returns. You may buy multiple small units (studio or 1+1), at least 1 in a tower in front of a metro bus station. This will give you good returns of up to 6% because it's in front of a metro bus station and constantly in demand by the working class. If a property has easy access to the metro or metro bus station, then even tourists are interested in short terms through Airbnb or other channels, where return returns can go much higher.
2. Investment for only family purposes:
Close to Nature: Sea view projects and projects with forest views or extensive green landscaping are always recommended.
Near Schools and universities: Here you have easy access to the most crucial phase of life, so the demand is always high.
Large projects: Projects in a large area are the best for the family; in this way, you can exclude the small boutique projects. The project will be in demand as the family area is a large project with more walking areas, cycling areas, sitting areas, basketball courts, tennis courts, family spots, etc. In this kind of project, the green space and facilities are also wide, attracting families to invest. And Istanbul offers a wide range of significant real estate projects like this.
Note: Istanbul offers the above features and a wide range of neighborhoods to choose from.
Top 5 Areas for Real Estate Investment in Istanbul
Many areas are perfect for investment, but if I want to rate the best 5 Locations through my real estate experience, I will go to the below five districts. Houses in these areas will experience an increase in demand.
1. KAGITHANE:
Kagithane is a special place to invest because of its location and potential. It is perfect since it offers you a high rental return right away and can quadruple your investment in only two years or less.
The location's proximity to Levent, Sisli, and Maslak, which positions it in the center of Istanbul, accounts for its greater rental returns because it enables working-class residents of these districts to move to Kagithane, where housing is cheaper.
On the other side, because of ongoing urbanization. Kagithane, like other areas of Istanbul, is experiencing new developments where old homes are being torn down, and new construction is taking place. Offering properties for half the price of those in Sisli, Maslak, and Levent.
2. HALKALI-BASINEXPRESS:
Basinexpress is a new fascinating living and investing environment. Near the center of Istanbul. It is centrally located between two major motorways, the TEM and the E5. And it is close to both commercial and social areas. The area also contains a lot of financial, entertainment, and service centers, which draw many investors and businesspeople.
The location is ideal for investment. Basin Express is known for its commercial and business zones, with many commercial outlets and hotels. It is ideal to invest in small units here as they will quickly go for rent due to many working-class people's demand. And at the same time, the project will give you high rental returns and return on investment.
3. FIKIRTEPE KADIKOY:
Fikirtepe, Kadikoy, is the best investment option in Istanbul right now. The high-rise modern infrastructure towers with everything at your doorstep. From public transportation to entertainment locations, make it excellent for investments, profit-making, and living purposes.
The key in this situation is the high-class surroundings and sophisticated infrastructure close to Istanbul's center while offering prices that are half those of Istanbul's downtown. You might not discover such a perfect living space about 10 km from Istanbul's main hub.
4.EYUPSULTAN ALIBEYKOY:
Eyupsultan district is located close to the center of Istanbul in the European side of Istanbul. Near the Levent 5.
Due to the abundance of family-friendly attractions and activities in the area, the location is a desirable travel destination.
Examples include the Istanbul Dolphinarium, where kids watch dolphins play, and the Vialand Mall, a festival city with many play areas, roller coasters, and other entertainment nearby.
Due to the abundance of schools and universities right outside your door, it is a sought-after region for families. The location is 8 miles from the city, and numerous public transit options are nearby.
The prices here are affordable, just like the prices in the outskirts of Istanbul but still in the center location. Because newly developed projects currently surround the older population homes. However, soon these homes will convert into new development projects.
Therefore, the prices will also rise by giving the area a more upscale appearance than it is now. In any case, these type of locations is the best affordable option for buying apartments near the center of Istanbul in the family complex.
5. ARNAVUTKOY:
Despite the risk, there is a lot of opportunity for profit in Arnavutkoy. Regarding international flights, Arnavutkoy is home to the world's second-busiest airport. What is the risk? The New City of Istanbul will be in Arnavutkoy, and the Canal Istanbul will also run through this area.
Even though the government already has plans, changing those plans could result in your land being acquired. However, you will receive compensation. In any regard, compared to other districts, the land prices are relatively reasonable. Additionally, the properties here will be in extremely high demand due to their proximity to the New Istanbul Airport and Canal Istanbul.
Is now a good time to invest in Istanbul?
As a realtor, you always expect me to say yes, it's the right time. But I will give you an example as of November 2022. Istanbul became not only the grain supplier to significant countries, including Europe and Africa, through the Ukraine grain deal.
But also set to become the distributor of gas from Russia to Europe. So whatever important function was being done from Russia or Ukraine through other countries is being done through Istanbul due to its location.
The importance of Istanbul city itself was already there for many reasons, including rapid development, the continuous growth of population, tourism hub, increasing GDP, and much more that I already mentioned above. Still, it is continuing because Istanbul is becoming a more substantial city for not only its region middle east but also Europe and others. So now is the right time and a very important time for the investor to dive in and confirm your share in this booming city.
How much should I invest in Istanbul?
If you invest in Istanbul wisely with the proper guidance of a realtor, you will surely get positive results. But ideally, a Turkish passport is an excellent opportunity to invest. This is because Turkey offers citizenship through investment and encourages investors to pursue it by lowering the investment budget from $1,000,000 to $400,000, which means that if you purchase a property worth $400,000, you are eligible to apply for a passport for yourself, your spouse, and any children under the age of 18 as well.
A Turkish passport can be obtained very easily and quickly in just five months or less, following the instructions on Getting Turkish Citizenship.
Option One property invites you to become part of its family. With extensive real estate knowledge, we guide our clients to make the right choice and ensure a long-term relationship even after they own their dream homes.
Conclusion(Is Istanbul Investment Worthy?)
Istanbul is an ideal asset to invest your money in. The past, the present, and the future are and will witness its greatness. You may be from any part of the world, but you will feel at home in Istanbul
Articles to Read:
Beylikduzu District in Istanbul
You can also follow us auf Instagram