Turkey's name, the Maslak district in Istanbul, is associated with sophistication, wealth, and profitable material returns in real estate investment. It was chosen by the finest classes of Turkish society to settle and live.
Table of Contents
Maslak is one of the most beautiful areas of Istanbul and is predominantly institutional and commercial.
Where is Maslak Istanbul located?
Maslak is a business district in Sariyer, one of Istanbul's most luxurious neighborhoods. And it is located on the European side of Istanbul.
On the northeastern side of European Istanbul, the Maslak area overlooks the Sariyer forests. It's distinguished by its proximity to the vital regions of the city: Sisli, Levent, and Ayoub. The district is only 5 minutes from the famous Bosphorus, which separates Istanbul's European and Asian sides, which made Maslak an excellent strategic investment center in Istanbul.
Maslak is also 10 kilometers from Taksim Square and Istiklal Street and 46 kilometers from Sabiha Gokcen Airport in the city's Asian end. This means it is possible to reach the Asian side of the city in 15 minutes starting from the center of Maslak. Also, it's just 35 kilometers from the new Istanbul Airport.
Information on the Maslak District in Istanbul
Maslak is the developing business and commercial district of the European side of Istanbul. It is also one of Istanbul's most luxurious, modern, and high-end neighborhoods. All the prestigious classes, such as ministers, merchants, people in business, and famous artists, live and settle in it.
Maslak was a village belonging to the municipality of Beyoglu between 1930 and 1954. Then in 1954, they transferred to the municipality of Sisli. Later, when Maslak turned from a small neighborhood to a huge commercial center, it was attached to the municipality of Sariyer with both the regions of "Huzur" and "Ayazaa."
Since the seventeenth century, Maslak Istanbul has been the preferred choice of the elite class on the European side of Istanbul. The Maslak district has many museums and historical palaces since it was the residence of sultans, princes, and other high-class people during the Ottoman era.
Maslak's growth throughout history allows you to witness the elegance and sophistication of cultural and civilizational fusion. It is an area that has seen spectacular urban development, such as skyscrapers with glass facades, luxurious residential properties with innovative and intelligent features, and big businesses.
Also, Maslak Istanbul represents the image of vibrant and pleasant neighborhoods. The demand for housing in the region has increased over the past few years. The development plan adopted by the Turkish government made Maslak a critical business center in Istanbul.
The region's population in 2016 was only about 6,200 people, and in 2007 its population was less than 2,000 people, while the population today has exceeded 10,000 people. There is an amusement park in Maslak and other parks, including Emirgan Park and Belgrade Forest. And Its most essential universities and hospitals are:
Istanbul Technical University
MEF Private University
Nisantasi Private University
the Military College
AciBadam Maslak Hospital
Sariyer Children's Governmental Hospital
Real estate in Maslak Istanbul
Maslak is one of the city's most significant real estate developments and upscale neighborhoods on the European side. And it is the most secure area against earthquakes in terms of the nature of its location.
Massive development in Istanbul's Maslak area makes it the best-expected place to buy real estate on the European side of Istanbul in the future. It is a stable destination for business and capital investment, businessmen, and high-income individuals, to buy and invest there. Furthermore, the proximity of Maslak to the Bosphorus increases the growth potential for owning luxurious mansions and modern villas on the strait's shores.
That makes Maslak one of the most famous and essential areas. Also, luxurious offices in the commercial center, famous five-star hotels, luxury residential and commercial skyscrapers overlooking the forest, and comprehensive vital facilities, such as hospitals, universities, shopping malls, and restaurants, make Maslak's neighborhoods the ideal and famous residential complexes.
Real estate prices in the Maslak district in Istanbul
Maslak is a leading investment area. It is also the third most expensive district in Istanbul.
The percentage of real estate used for commercial purposes in the center of Maslak is higher than that used for residential. Therefore, Maslak is one of Istanbul's most expensive real estate markets, with high rates of return, rental income, and rents. Since most residents are businessmen, Construction companies in Maslak promote unique engineering construction that provides luxury, tranquility, and pleasure.
Real estate in Maslak is precious and suitable for obtaining Turkish citizenship. Despite the high price of its real estate, real estate companies give suitable offers for those who want to own property in Istanbul's Maslak and get real estate residency.
Transportation in the Maslak Istanbul area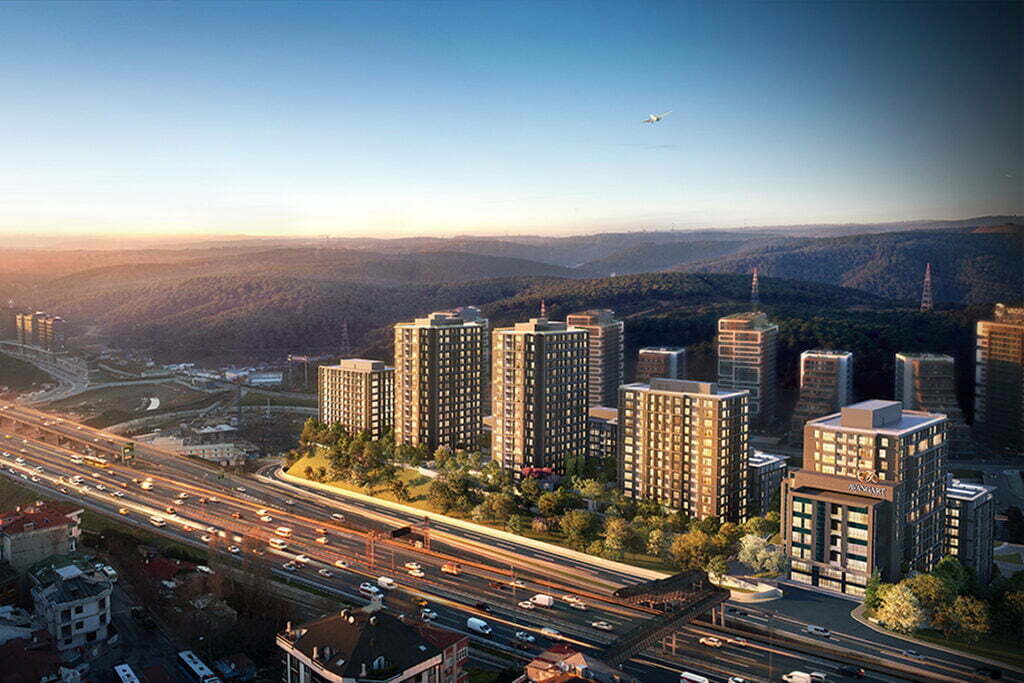 The Turkish government has expressed interest in developing Maslak's infrastructure as part of its modern project plan. Its various transportation points play an essential role in the vitality of Istanbul's Maslak district.
The M2 metro line passes through Maslak and serves its neighborhoods with two stations: ITU-Ayazaga and Atataturk Oto Sanayi. There are also buses as public transport and the E80 highway, which extends to Sultan Mehmet Al-Fatih and the Asian side of Istanbul.
Commercial markets in the Maslak Istanbul area
Maslak is one of the most distinguished neighborhoods in terms of market diversity and shopping malls in Istanbul. one of the most important shopping centers and commercial markets in Maslak is Vadisitanbul, with an area of 130 thousand square meters.
This mall is always crowded and full of residents and tourists. It includes many international brands, restaurants, luxury cafes, and entertainment facilities like a cinema and a games city. One of Maslak's luxurious shopping centers and commercial markets is Kanyon Shopping Mall.
It's the destination for high-class people who seeks a luxurious life full of housing, lifestyle, and high-end daily routines. Also, Istinye Park is a shopping center known as a big attraction for shoppers. It has an indoor market and an outdoor shopping area stocked with the finest international brands and offers everything you need.
Tourism in the Maslak area
Although Maslak is a business and investment area, it has successfully attracted tourists worldwide, thanks to its buildings and the aesthetic of its age. Therefore, Maslak is ideal if you aspire to a unique tourist experience in Istanbul, full of relaxation and pleasure.
Maslak Istanbul includes many tourist areas, with various types of entertainment, like shopping malls, cafes, and markets, As well as luxurious hotels and clubs suited to greet tourists from around the world.
And following are the most famous touristic areas in Maslak:
"Fatih Sultan Mehmet bridge," the famous bridge of Istanbul on the Bosphorus. It links the European side of Istanbul to Asia.
Elgiz Museum, situated amongst the highrise buildings of Istanbul's business Maslak is now dedicated to contemporary art.
Maslak Castle, or Maslak Pavillion, was built under Sultan Mahmut II in the 19th century. It's a two-story building that includes Sultan Abdülhamid II's bedroom and offices and a rooftop with a view of the sea.
Belgrade Forest: One of the most beautiful forests in Istanbul. You can explore it and enjoy time in beautiful nature. Even skyscrapers overlook it with a panoramic view. It is an ideal place to relax and enjoy BBQ with the family. It is worth noting that the Belgrade Forest is home to seven crystalline lakes linked to the city by bridges over the water.
Conclusion
Finally, we have covered all the facts you need to know about the Maslak neighborhood on Istanbul's European side. And whether you want to live a luxurious lifestyle or buy a property in Maslak, we will offer you the most outstanding real estate deals that meet your goals and expectations.
Browse our new project in Buyukcekmece: Uniquely Designed 2022 Modern Villas with Sea View.
You can also learn about our project located in Sisli, the Heart of the Business World: Prestigious Apartment to Buy in the Center of Istanbul.
You can also browse our project in Maslak: Superbly designed towers overlooking the Bosphorus in Maslak.
If you want to know where the best villas for buying in Istanbul are, read: Best And Affordable Villas For Buying In Istanbul.
Check also Where to Buy a Villa in Istanbul? and Real Estate in Turkey.