In this article, we will try to answer the most asked question: Where to buy a villa in Istanbul?
Istanbul's unique beauty has become popular among tourists, investors, and those who like to move to a new and calm place. Furthermore, Istanbul's architectural features and vitality have drawn thousands of tourists looking for the best choice amongst the luxury villas and modern apartment communities in Istanbul.
Table of Contents
In this piece, we will describe the best villa areas in Istanbul and the advantages of these areas.
Is buying a villa in Istanbul a good picture?
Buying a villa for sale in Istanbul is undoubtedly a good idea when you search for a villa in Turkey, whether for private housing or investment. Istanbul is notable for its geographical location, which crosses two continents, its warm climate, developed infrastructure, and global power. Istanbul also features the most well-known and desirable tourist districts, where thousands of historical tourist places attract millions of visitors.
Searching for a villa for sale in Istanbul city is a good idea because of the permanent development plans and projects that the Turkish government is building in Istanbul. And because of the many properties installments plans that the construction companies offer in the city.
Is buying a villa can be a profitable investment?
Villa investment is mainly made for self-living purposes, preferably when you are a big family. Villas in Istanbul will save you money and ensure your housing stability. Villas in Istanbul have all the freedom of a private house, a sense of security, and a comfortable lifestyle. But no doubt, villas in Istanbul gain excellent value, which can be good for property investment and give you handsome rental returns.
The price of the villa in Istanbul is constantly increasing, so you'll have a better resale value. Also, investing in properties such as villas provides a steady source of income.
Is buying a villa in Istanbul good for rental income?
Investing in real estate in Istanbul by renting will increase your rental income. Yet, the rental income on property investment in Istanbul varies according to the following:
The location of the villa
The rental period
Its features include space, quality, and whether it is furnished.
The facilities around it.
The residential rental return for villas in Istanbul is estimated between 4 to 7 percent, while the tourism rental return is between 8 to 12 percent of the villa price.
Where do the rich live in Istanbul?
The rich in Istanbul choose to live in areas that mix the several cultures of the past with the elegance of modern civilization. Most of the rich mansions and villas line up along the Bosporus. And below, we will show you the most luxurious districts in Istanbul.
Besiktas district: Bebek, Arnavutkoy, and Eliter: Bebek is the favorite place of the rich in Istanbul, and it is the most luxurious area in Besiktas. Nearby lies the Arnavutköy region, which has a rich history, luxurious mansions, and various cultures. Also, the Etiler district has luxurious shops, restaurants, and gyms.
Nişantaşi district in Şişli: Rich people are attracted to living in it since it provides the finest cafes, shops, luxury villas, and international fashion brands.
Sarıyer area: In this elegant area, villa prices reach millions of dollars. Sariyer, with its precious and private luxury seafront villas, also offers a charming sea view. Also, the Maslak district is classified as the first destination for rich people.
What are the best areas to buy villas in Istanbul?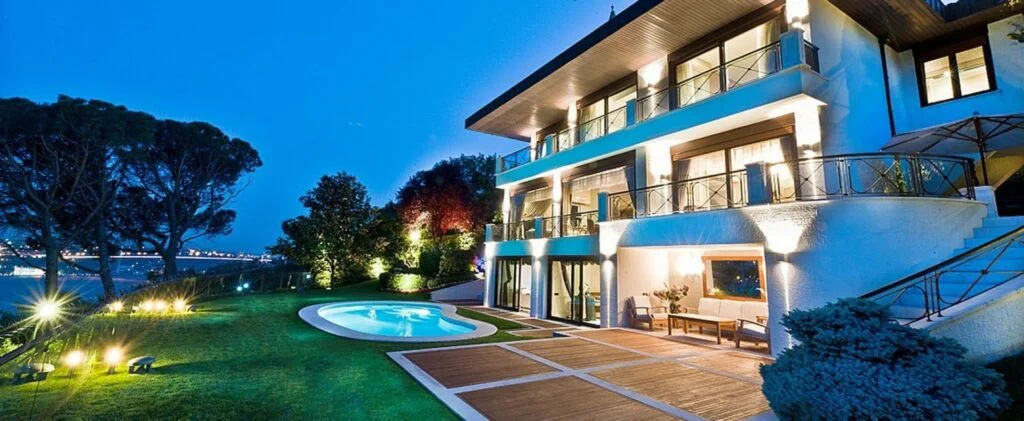 If you want to buy luxury private villas in Istanbul, the following paragraph will show the best areas to buy villas for sale in Istanbul. Trying to help answer Where to buy a villa in Istanbul?
Beykoz: This district is located in Istanbul's Asian side, just a few minutes from the Fatih Sultan Mehmet Bosphorus bridge. Nature makes it unique, and the villa project in this area makes it more unique. Istanbul's Beykoz has both upscale and modern areas, and traditional urban ones are one of its distinguishing qualities. It is one of the best areas to buy an affordable villa in Istanbul since it has everything you need to start a new life away from the city's crowds and commotion. learn more about villas in Beykos: Buy a villa in Beykoz Istanbul.
Zakariyakoy: Zekiriyakoy falls in the district of Sariyer, and Sariyer is considered one of the centers of Istanbul. Due to the luxury housing constructions, this little town is now one of Istanbul's wealthiest neighborhoods, and the rich choose to live here because the financial centers, such as Maslak and Levent, are a few minutes away.
Beylikduzu: Beylikduzu is located on Istanbul's European side. You'll find there several modern and stylish villa developments. Beylikduzu municipality also benefits from the growth of its infrastructure and modernism to the point where it has become a popular location for buying a villa in Istanbul. It also overlooks Büyükçekmece Bay, providing a magnificent sea view. If you are interested in learning about Beylikduzu, read this article:Beylikduzu District in Istanbul.
Silivri: Silivri is located on Istanbul's European side, west of Büyükçekmece Lake. Silivri offers the luxury of vacationing in villas overlooking the Marmara Sea and its gorgeous fields. Silivri is the trendiest area to buy villas in Istanbul if you want both tranquility and urban luxury.
Buyukcekmece: Buyukcekmece is located west of Istanbul and, despite its distance from the city center, it is a highly developed area. Property real estate values are constantly rising in Buyukcekmece, so It would be an ideal location for buying a villa in Istanbul, away from the city's hustle. Browse our new project in Buyukcekmece: Uniquely Designed 2022 Modern Villas with Sea View
Catalca: Catalca real estate is ideal for those wanting to capitalize on Istanbul's rising property prices. It is distinguished by its long coastline near the Black Sea, attractive landscapes, and beautiful construction of villas.
Also, Istanbul's rich areas are great districts to buy villas in Istanbul, like Sariyer, Besiktas, and Buyukcekmece.
If you want to know where the best villas for buying in Istanbul are, read: Best And Affordable Villas For Buying In Istanbul.
Things to keep in mind when searching for villas for sale in Istanbul for housing
Buying a villa in Istanbul is the best future for you and your family if you want privacy and a luxurious lifestyle with great features. So when you search for villas for sale in Istanbul for housing, make sure of these features:
The number of bedrooms, living rooms
Availability of entertainment facilities: swimming pool, jacuzzi.
The sea or forest view.
The calm of the place.
Tourist and recreation areas.
Acceptable service limits.
Villa's proximity to transit, airport, and public utilities.
Things to keep in mind when searching for villas for sale in Istanbul for investment:
Many features must be kept in mind when buying villas for sale in Turkey for investment:
The sea view: Sea view villas in Istanbul are unique.
The green forest view.
Near famous tourist areas and transportation.
The high rental income and returns.
The future of the area.
It's proximity to the airport.
Villas on the Asian side of Istanbul
Beykoz, on the Asian side of Istanbul, is filled with dense forests and beautiful views of the black sea.
Beykoz is the best area to have the villa in. Also, due to its location, as it's just a few mins away from the Bosphorus bridge and just 12 mins away from Maslak, the district can easily be considered the greenest district near the center; the villas here are still starting from just 600.000 USD and above. Still, per the growth in a brief period, every villa in Beykoz will be worth less than a million USD.
What do you think about Where to buy a villa in Istanbul?
We are glad to provide you with the essential options for buying luxury villas in Istanbul as well as the most significant sale offers in Istanbul's luxurious areas. Finally, we hope that we have given you all the information you need about where to buy a villa in Istanbul, whether the villa is for family living or investment.
You can also learn about our project located in Sisli, the Heart of the Business World: A prestigious Apartment to Buy in the Center of Istanbul.
learn more about Cheap Apartments to Buy Near the Center of Istanbul.