As a natural strait that joins the Black Sea and the Sea of Marmara, the Bosphorus is a tremendously important waterway.
It was a river that flowed through the valley during the Tertiary era of the continents before being submerged by the sea at its conclusion.
Its length from north to south is 32 kilometers (20 miles), its breadth ranges from 800 to 3600 yards, and its depth ranges from 30 to 120 meters (100-395 feet). The Bosphorus waterway divides Istanbul into its European and Asian halves.
The Bosphorus – Istanbul

Turkish refers to the Bosphorus as Bogazici, which translates to "inner strait" Due to its strategic location as the only route between the Black Sea and the Mediterranean, together with the Dardanelles strait, it has played a significant role since ancient times.
The straits were essential for the Soviet navy, particularly during the Cold War.
The Bosphorus is a heavily used canal, with numerous ships and oil tankers passing through it along with local fishing boats and ferries that travel back and forth to the Asian side.
A total of 38,551 vessels passed through the Strait of Istanbul in 2021; according to official data, the number of ships using the strait was almost unchanged compared with the year 2020 figure of 38,400, the Transport and Infrastructure Ministry announced.
A total of 631.9 million gross tons of cargo were carried through the strait over the year 2021.

The Bosphorus, which connects Europe and Asia, has three suspension bridges.
The first one called the "Bosphorus Bridge" was built between the Beylerbeyi and Ortakoy neighborhoods on October 29, 1973.
The name of this bridge was changed to "Martyrs of July 15th" in honor of those who lost their lives during the failed coup attempt on that date in 2016.
There are 6 lanes, 165 meters in height, and it is 1074 meters long between the two pillars.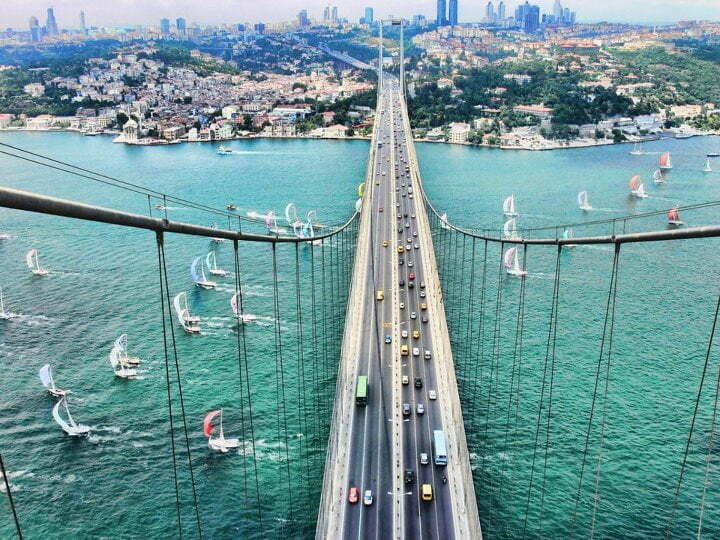 The "Fatih Sultan Mehmet Bridge," which connects the neighborhoods of Anadolu Hisari and Rumeli Hisari, was inaugurated on July 3, 1988. It has eight lanes, is 1090 meters long, and is 65 meters above the water.
The third bridge, known as the "Yavuz Sultan Selim Bridge," was inaugurated on August 26, 2016, connecting the Garipce and Poyrazkoy areas along the strait.
One of the world's longest and tallest suspension bridges, it spans a distance of 1408 meters (between 322 meter-tall pillars and is 59 meters wide with eight lanes for cars and two trains. 
Read also Where To Invest? In the European Or Asian Part Of Istanbul?