We will focus in this article on real Estate in Turkey 2023, with an eye on the future of the real estate market opportunities in Turkey.
The Turkish economy continued its growth path despite the inflation crisis that began two decades ago. Moreover, Turkey continued its economic growth in 2020, even amid the chaos of the Corona pandemic.
Thus, Turkey became one of the world's fastest-growing economies. It even became a strategic partner for Spain. Moreover, the resilience of the Turkish economy has made it one of the fastest-growing economies in the world.
Table of Contents
The stability of the Turkish economy, and its accelerated growth despite global economic inflation, is due to many strengths in Turkish trade. Turkey has a large domestic market and has been and still is a starting point for trade between East and West.
Turkey's domestic market is a significant consumer spending force. Furthermore, Turkey is far from economic stagnation due to the new economic program the government has begun to install.
At the end of 2022, the Turkish economy is still growing and expanding by 7.6%. Turkey achieved this rate despite global economic inflation and the weak economy in most neighboring countries. As a result, Turkey's economic ranking in 2022 will rise from 13th in 2020 to 11th.
Thus, Turkey can be classified as one of the most powerful economic countries and is heading toward globalization. Turkey ranked third among the OECD countries, ahead of India and China. The Turkish economy is expected to be the fifth-largest economy by 2023.
The followings are Turkey's vision for 2023 summarized goals:
The Turkish economy will become one of the top 10 economies in the world.
The unemployment rate should not exceed 5%.
$ 1 trillion in foreign trade.
$ 2 trillion of GDP.
The total salary per year should reach 25,000 USD.
The export value of 500 billion USD per year.
The Turkish economy has outperformed the most significant countries. As a result, it is now one of the largest markets in the world in the real estate investment sector, which is seeing impressive and competitive growth and attracts foreign capital.
Many facilities were provided to investors, as the Turkish government put all its efforts and development projects to attract foreigners to invest in Turkey.
Turkey is among the countries with many comprehensive strategies and plans to keep progress and continuous growth in its success, besides an attractive economy for foreign investments.
Turkey is the most affordable luxury market
Turkey is growing into the perfect picture of global luxury. Because its market is among the hottest markets for luxury goods in the world, Even when the economic crisis afflicted the world, the Turkish market's spending on luxury continued at a robust pace.
Turkey attracts the wealthiest tourists, which also affected its tourism sector and made it the fourth in the world. These rich people are considered supporters of the Turkish economy and one of the basics of the luxury market in Turkey. Significantly since the number of luxury shopping centers and luxury hotels is increasing. The luxury real estate market is also witnessing a wide boom. This is because wealthy foreigners and Arabs are not only buying luxury goods from its markets but also buying luxury real estate. And because Turkey's luxury market is set to be the most affordable luxury market in the world. This means a vast and growing demand for real estate in Turkey.
The fast-increasing population and development projects have made construction and real estate one of the most critical industries that push the Turkish economy towards globalization. So real estate will continue to bring enormous profits to investors in Turkey. And because the demand for real estate is so high, it is estimated that by 2023, there will be 1.5 million new homes being built in Turkey every year.
The construction of high-quality housing projects with international standards and the rehabilitation of many areas within the development projects plan is among the state's preparations to achieve Turkey's vision for 2023. The real estate market in Turkey is one of the most important markets in the world as a result of its advanced and its many options for buyers. With its fast growth, the real estate market provides a profitable investment opportunity. In addition, it offers many options for foreign investors, such as luxury apartments and villas.
If you plan where you will live in the next 20 years, consider investing in real estate in Turkey in 2023. It is the wisest choice because Turkey has maintained its robust and prosperous economy. Moreover, many investors are always looking toward Turkey to take advantage of all profitable business opportunities in the coming years, specifically in 2023.
Turkey is one of the wealthiest real estate markets in the world, which has led to a high demand for real estate. Foreigners and buyers will enjoy many advantages, a variety of options, and government incentives. This means that you will quickly find a suitable house to buy, whether by paying cash or installments, through the offers offered by real estate companies.
The property's location is one of the most important criteria determining its suitability for investment. So buying a house in the right location is the most important thing to consider if you plan to sell. It is the primary controller of the success of this investment.
There are many options in Turkey and many important locations, so we tell you first to get help from a real estate expert who will make it easier for you. But in general, the property must be located in a strategic area with the following:
A high demand for real estate.
High house prices at the time of sale.
developed projects.
In the location, it is essential to know the project's surroundings and the immediate environment, as these are the main features of a successful investment. The properties near the city centers will double your capital as it has high investment returns and resale value. Also, look for houses near tourist areas, and make sure that various services are available. Transportation alternatives, shopping facilities, and health and education institutions increase property value in Turkey.
Is real estate a good investment in Turkey?
The year 2023 is significant for the Turkish state. The country will celebrate its centenary. In celebration of this great event, the Turkish government has prepared a comprehensive plan to complete its most significant investment projects. Large investment projects and economic and financial packages will improve the Turkish economy and attract more foreigners. Also, Direct Investments (FDI) make Turkey more attractive in terms of business. Furthermore, the Turkish real estate market is active and profitable due to the increasing demand for the real estate sector in Turkey, which has increased significantly.
The tourism sector in Turkey has recorded a significant boom in recent times. Tourist bookings are increasing since the exchange rates allow visitors to experience a luxury vacation at a lower cost than that in Europe. Tourism is the key to Turkey's 2023 vision. The government expects to welcome 50 million tourists and make $50 billion in earnings. It plans to raise the available beds to 1.5 million and build 40 new marinas by 2023. That ensures a considerable demand for properties to rent and purchase, creating fertile grounds for investment. This is approximately 12-15% of Turkey's foreign investment. That's why it is essential to invest in tourist areas.
The Turkish real estate market is expanding due to increased property demand, ongoing promotion strategy by banks, and reduced interest rates on housing loans. Furthermore, the Turkish government has encouraged foreign investors through the Turkish citizenship program. For example, when buying a 400,000 USD property, the investor, his wife, and children under 18 years can get Turkish citizenship.
If you are interested in real esate investment, we advise you to learn about Real Estate in Turkey
Turkey has great potential for real estate developers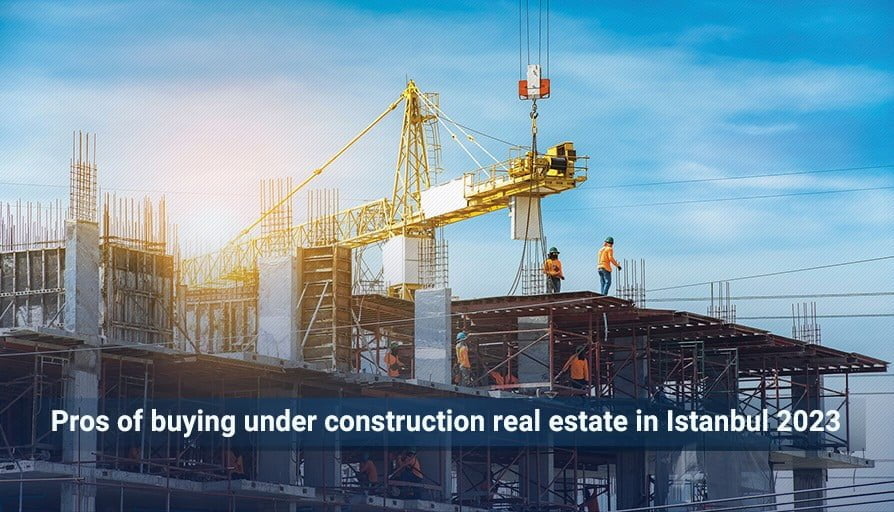 Turkey is becoming more appealing to investors due to official incentives, tax breaks, and free land distribution. Turkey has great potential for real estate developers and investors due to the country's large construction industry and rising commercial and industrial production. The Turkish real estate sector is flourishing, with urban areas experiencing a rise in property values. The current market conditions are excellent for investors, with increased demand for real estate as the number of tourists increases and the real estate market expands. New real estate is deemed the best investment because its prices are rising faster, and there is a high demand for it.
Furthermore, Turkey is rising as a real estate investment destination due to its location at the intersection of Europe and Asia. With high-value and advantageous properties for sale in Turkey, the market presents significant real estate opportunities.
The Turkish real estate market relies on these infrastructure objects in "Turkey's vision 2023," which will grow the investment in the real estate market:
The construction of an artificial water channel connects Marmara with the Black Sea.
The developers of Istanbul's airport confidently announce that it will not be similar in size. Instead, the airport will be able to serve at least 150 million passengers annually.
The creation of artificial islands in the Sea of Marmara.
Three cities can be classified as high-tech. We are discussing the growth of Gaziantep, Sakarya, and Kayseri. The brightest engineers will prove their knowledge of the latest technologies that allow them to take charge of security.
Is it a good time to buy real estate in Turkey 2023?
The Turkey real estate market has recently experienced numerous improvements. It has undergone various changes, whether in terms of property pricing or laws. As a result, foreign investors began to wonder whether it was a suitable moment to invest in Turkey's real estate market in 2023
According to analyst predictions, Turkey's property market will develop at an annual rate of 8% from 2023 to 2027. Purchasing real estate is the best sort of investment in Turkey in 2023. As shown by the rapid rise of the property sector. The type of property also impacts its investment value. Apartments, for example, are typically more ideal for investment goals than other types of properties, such as villas or office buildings, since they are in higher demand.
Istanbul, Turkey's largest and most diversified city, has the outstanding infrastructure to support its ever-growing population and high levels of foreign investment. In addition, the Turkish government's efforts to improve the Turkish real estate sector by welcoming foreign investments have resulted in many foreign nationals taking advantage of the low-cost properties and investing in them to reap the benefits of high returns.
We will encourage you more by telling you this information now. In the first two months of 2022, 185,893 property sales transactions were accomplished in Turkey. Meanwhile, according to official data from the Turkish Statistical Institute, real estate sales in Turkey increased significantly in March, with 134,170 houses sold. Demand surged powerfully due to the high inflation rate, which hit 60% in March 2022 and is still growing more and more! And now, through Turkey's 2023 vision, the Turkish government is taking action to ease the property sector's growth and support new construction projects. These actions will strengthen the country's property market, especially in Istanbul, in the following years.
Finally, 2023 is the golden year for Turkey. Now is a decisive moment to invest in Turkey if you are looking for huge profits shortly. For example, suppose you want to invest in Turkish real estate and want more details about the investment and luxury properties for sale. In that case, our expert consultants are ready to give you full-service consulting about Real Estate in Turkey in 2023.