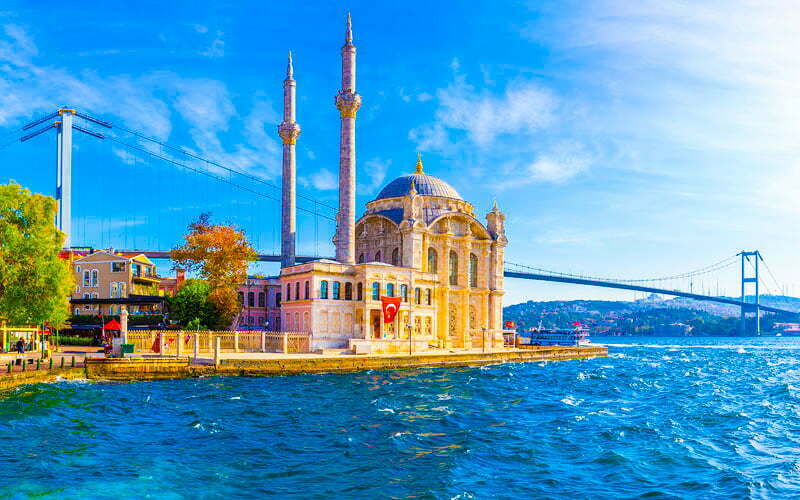 Historic Masjids of Istanbul and Ottoman architecture are Istanbul's most renowned features. Istanbul, the largest city in Turkey and the capital of the Ottoman Empire since 1453, has more than 3000 mosques, and among are the ones that are very known such as
1. HAGIA SOFİA :
Table of Contents
Hagia Sofia (Aya Sofia in Turkish) has a great history attached to it. Hagia Sophia was originally built as a basilica for the Greek Orthodox Christian Church, It was built between 532 A.D – 537 A.D it took just five years, ten months, and four days to complete. When Aya Sofia was first built, it was a church. However, once the Ottomans conquered Istanbul, Sultan Mehmet Fatih turned it into a mosque. The mosque was converted into a religious museum with a large collection of images under the Turkish Republic. In 2020, the museum was re-designated as a mosque under Turkish President, Recep Tayyip Erdoğan It is one of the most notable examples of Ottoman ornamentation and Byzantine construction.
2. BLUE MOSQUE : 

One of Istanbul's most notable ancient mosques, Sultan Ahmet Mosque, often known as the Blue Mosque, is situated on Sultan Ahmet Square next to Aya Sofya Mosque. It is one of the most significant and largest mosques in the Muslim world and was constructed between 1609 and 1616 by Sultan Ahmed I. It is renowned for its unique architecture. Following the Peace of Zsitvatorok and the devastating loss in the 1603–18 war with Persia, Sultan Ahmed I decided to build a large mosque in Istanbul to regain Ottoman dominance. in 1985, the Blue Mosque was included in the UNESCO list of World Heritage Sites.
3. FATIH MOSQUE :


Under Fatih Sultan Mehmed's command, an astonishingly large and intricate religious and social complex known as the Fatih Masjid was constructed in Istanbul between 1463 and 1470. It was constructed where the previous Byzantine Church of the Holy Apostles once stood. The Fatih Mosque is one of the most significant religious sites due to its historical significance and tourist appeal. It includes two identical minarets and a sizable courtyard that is encircled by numerous columns and arches.
4. SULTAN EYUP MOSQUE :
The mosque is named after Abu Ayyub al-Ansari R.A, one of the dearest companions of Prophet Muhammad Peace be upon him who passed away here in the 670s, Only five years after conquering Constantinople in 1453, the Ottoman ruler Mehmed II built a mosque on the location. The tomb of Abu Ayyub Al-Ansari R.A is located outside the mosque compound, along with additional burials.
5. SULEMANIYE MOSQUE :

In the tradition of classical Ottoman architecture, the Suleymaniye Mosque was constructed by architect Sinan between 1557 and 1550, during the reign of Sultan Suleyman Kanuni.
Historic Masjids of Istanbul
One of Istanbul's most well-known mosques and a major tourist attraction, Suleymaniye Mosque, named for the Sultan who gave the order to construct it, is situated in the Suleymaniye district close to the Bosphorus. It includes four minarets since Sultan Suleyman was the fourth Ottoman sultan to rule the empire conquest of Istanbul.