In this article, we are discussing a glimpse of the Existing Istanbul Financial Center. On Istanbul's European side is a neighborhood called Levent. Here exists the Istanbul Financial Center. It is located on the western coast of the Bosphorus strait, north of the Golden Horn. And is a part of the municipality of Beşiktaş, Levent, along with the neighboring Maslak, is one of the primary business districts on the European side of the city, where multiple skyscraper projects have been built. Here, concealed by the hills of the Bosphorus and keeping out of the way of the old peninsula of Istanbul.
Here one of the city's modern skyline clusters was found. Emlak Kredi Bank, a Turkish bank founded to finance housing projects, chose the Levent district to build a well-planned residential compound in 1947. The compound is composed primarily of villa-style residences with gardens. After the Levent project's first phase finished in 1960. Many additional residential compounds were built nearby, extending towards Etiler.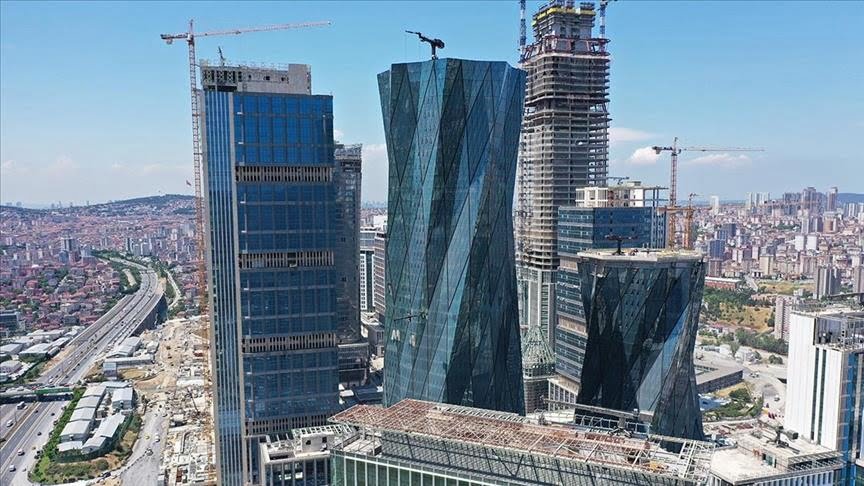 Levent gained popularity as a site for new skyscraper construction in the late 1980s and early 1990s because of pioneering projects, including the Sabanc Center, Yap Kredi Towers, TAT Towers, Metrocity Towers, and Is Bank Towers. Most of which are owned by Turkish banks and corporations. Levent is home to one of the city's prominent skyline clusters. Along with those of Maslak and Sisli on Istanbul's European side and Ataşehir and Kozyata on its Asian side. The 54-floor Istanbul Sapphire, the tallest skyscraper in Istanbul and Turkey, is located in Levent. Several other mixed-use skyscraper projects and shopping malls are currently built in the area, which has developed into a central economic hub.
The Istanbul Sapphire is a 54-floor building with a roof height of 238 meters.
It is the tallest building in Levent (261 meters, including its spire). It was the tallest skyscraper in Istanbul and Turkey between 2010 and 2016.
It is the fourth tallest skyscraper in Istanbul and Turkey. The Skyland Istanbul Towers (2 x 70 floors/293 meters) is situated next to the Türk Telekom Stadium in the Seyrantepe neighborhood. Sariyer district on the European side of the city. And the Metropol Istanbul Tower (70 floors/301 meters including its twin spires) in the Ataşehir district on the Asian. The Levent business center and its neighboring neighborhoods are served by the stations Levent and 4. Levent on the Istanbul Metro's M2 line.
Conclusion:
Istanbul started its journey to becoming the business hub of the world way back, working up to its name till today. Where now, after the existing financial center. Istanbul is on its way to having a New Financial center in Atasehir, whose details are in the next blog.