Arnavutkoy in Istanbul (Arnavutköy) is one of the districts located on the European side and the borders of the black sea.
Arnavutkoy was a town and a rural neighborhood. The district includes parts of other districts, including Catalca, which was recently created in 2008.
Table of Contents
It is the district where three significant developments have occurred in modern-day Istanbul, that is as follows:
1. New Istanbul Airport:
Istanbul Airport is the city's brand-new airport and is regarded as the Turkish government's crowning achievement.
The new aviation hub, which has been added to Istanbul's two already-existing airports (Ataturk Airport and Sabiha Gokcen International Airport), began taking over all of Ataturk Airport's passenger flights on October 29, 2018 and was projected to serve more than 200 million travelers by 2025 but it did way earlier than expected.
With this significant milestone of welcoming 200 million passengers since October 29, 2018, Istanbul Airport has achieved phenomenal success in the aviation industry.
It took the Aviation industry to the next level in Türkiye with its exceptional architecture, robust infrastructure, state-of-the-art technology, and sustainability practices. Istanbul Airport hosted a send-off event in honor of its 200 millionth passenger.
On May 3, 2023, Istanbul Airport, Europe's busiest and one of the world's most important global transfer hubs, welcomed its 200 million passengers, reaching another milestone.
Votes from Condé Nast Traveler readers enabled Istanbul Airport to surpass Singapore's Changi Airport and take the top spot globally.
Seul Incheon Airport in South Korea came in third on the list, followed by Zurich Airport in Switzerland in fourth place and Haneda International Airport in Tokyo, the capital of Japan, in fifth position.
Sixth on the list is Abu Dhabi Airport in the United Arab Emirates, seventh is Hamad International Airport in Qatar, and eighth is Dubai International Airport.
According to the report, Helsinki Airport came in at number 10, while Hong Kong International Airport came in at number nine.
2. New City:
Aranavutkoy was known as one of the rural areas of Istanbul. But when you see Arnavutkoy in 2023. It has dramatically changed and is on its way to becoming one of the New Cities In Istanbul with all the new highways already built, which you can see in the pictures attached, and New Istanbul Airport already exists.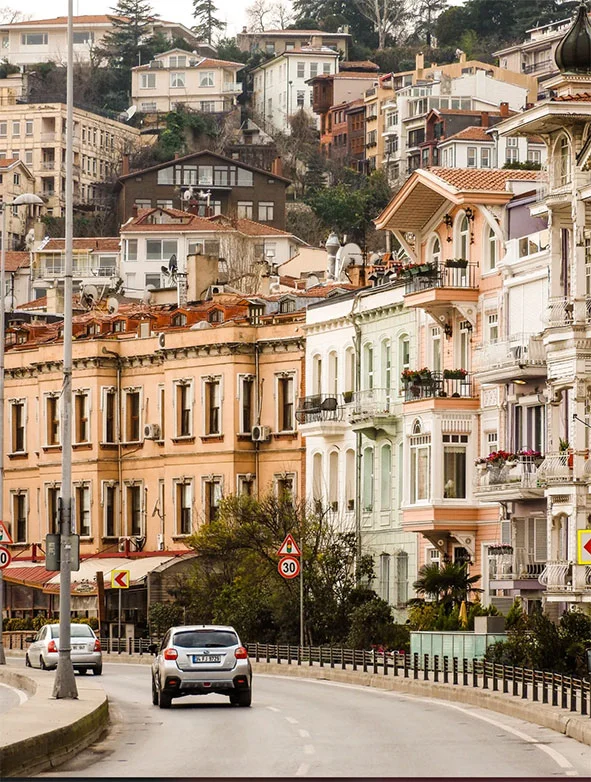 It is now on its way to becoming a sophisticated complete New City with all the new projects development coming in.
The government already has plans for it, and that is where the Development of new projects, including housing societies, hospitals, schools, universities, etc., will occur.
That means whatever land you Own herein, Arnavutkoy. Your land will be part of the plan, enabling you to have brand new property according to the plan. Government Developers like Emlak Konut and Toki are already flocking in and introducing the project.
Let us take an example of the new project announced by Emlak Konut, which is called Yenisehir Houses Arnavutkoy, which will be constructed in Arnavutköy, adjacent to Istanbul Airport, on a plot of land measuring around 131.000.000 square meters, is inspired by the idea of a large metropolis that can meet all of its inhabitants' needs.
The project, which was designed with all of the amenities its occupants will require in mind, consists of everything from social and cultural spaces to market areas and places of worship.
This is just starting, and it is going to reach another level. Right now is the perfect time to get in without further delay for this area because these places are known as a lifetime opportunity. And which can increase your investment ten times or more.
3. Canal Istanbul:
Canal Istanbul is a man-made sea-level waterway connecting the Black Sea to the Sea of Marmara and, ultimately, the Aegean and Mediterranean oceans, proposed by Turkey in East Thrace.
The Istanbul Canal would cut through the city's current European side, creating an island between Asia and Europe with a shoreline that included the Black Sea, the Sea of Marmara, the new canal, and the Bosporus. The new waterway would bypass the existing Bosporus.
The purpose of Canal Istanbul is mainly to decrease the traffic burden on the current Bosphorus, which will also preserve the historical monuments along the Bosphorus and further ensure traffic and navigation safety.
The Bosphorus is a naturally occurring canal with a maximum width of 698 meters, over which 43,000 vessels travel annually.
Istanbul is under a lot of pressure and threat due to the rise in vessel traffic, the expansion of vessel sizes due to technological advancements, and particularly the increase in vessel (tanker) transit transporting gasoline and other hazardous/poisonous materials.
Sharp twists and strong currents in the Bosphorus and vertical intersections of the intra-city sea and transit vessel traffic make maritime transportation unsafe.
The two Bosphorus coastlines are home to hundreds of thousands of people. Millions of Istanbul residents use the Bosphorus as a trading, commuting, and residential route during the day.
The Bosphorus is increasing riskier and riskier for transit vessel traffic every year. One hundred years ago, there were 3–4 thousand annual vessel transits; today, there are 45–50 thousand. In the Bosphorus, the average wait time for large vessels is 14.5 hours. The waiting period occasionally reaches three to four days.
Conclusion:
Arnavutkoy offers possibilities that only one location can match. New Istanbul Airport, one of the busiest airports in the world, is located in Arnavutkoy. What, then, is the risk? The New City of Istanbul will be at Arnavutkoy, and Canal Istanbul will also flow through this area.
Even while the government already has plans, such plans could change and grab your land. However, you will receive payment. In any event, compared to other districts, the land prices are relatively fair. Additionally, it will be in high demand due to its proximity to Canal Istanbul and the New Istanbul Airport.
This might be the best investment if done carefully and after knowing all the details.
Read also The Impact of Tourism on the Real Estate Market in Istanbul.
Arnavutkoy on Google Maps.